Il Bisbetico Domato (1980) movie impressions and spoilers
What was that, you say? Il Bisbetico Domato can be translated into either one of these:
The Taming of the Shrew
or
The Taming of the Scoundrel
Here we are again, talking about a foreign movie. This time we have an Italian movie from 1980, if the title wasn't enough of a hint.
I'm not particularly sure which is the correct translation of the Italian title. However, The Taming of the Scoundrel makes more sense when you watch the movie.
I'll say this movie is more of a romantic comedy, and you can read a bit more about it on its English Wikipedia page, from where I borrowed the picture seen below. And besides the problematic title, we have another problematic depiction throughout the movie, that I'll talk more about in the spoilers.
The main characters are played by Ornella Muti and Adriano Celentano.
Let's just start by saying Ornella Muti is a gorgeous woman and was voted the most beautiful woman in the world in 1994. you can read more about her and find more movies in which she played, from her wiki page.
Adriano Celentano should need no introduction, as he's a very well-known Italian singer, and his Prisencolinensinainciusol song is perfect for dancing, and you can't get it out of your head once you hear it.
The scene from which this picture was drawn, is crazy funny, and could very well be a classic. Now, my spoilers are below the picture.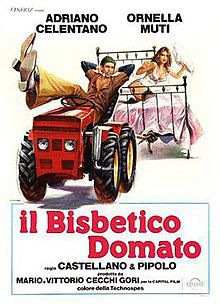 Adriano plays the role of Elia. He's a rich but hard-working farmer. He's also a bit obnoxious and most of the town dislikes him. He's single and looks down on the married man of the town.
Ornella plays Lisa who stops at his farm one rainy evening because her car broke down. He refuses to offer her shelter and tells her to go to the hotel that is 5km away, either by foot or on a bike, despite her being soaked from the rain already. Lisa knows she's beautiful, and she couldn't understand how any man could deny helping her.
Elia lives alone, but he has Mamie who cooks and cleans for him. Mamie is played by Edith Peters (RIP) and she is the second most problematic aspect of this movie. Mamie, a Black woman, is seen wearing clothes that make me think of a housekeeper on some plantation, back in the day.
It's Mamie who lets Lisa in the house and thus sets the wheel in motion for what's to come. Lisa tries everything she can to try and make her stay on the farm longer, by finding all sorts of excuses. She does this to try and seduce Elia. She even pretends to have twisted her ankle while climbing down the stairs or sneaking naked into his bed.
Elia of course saw all her efforts and tells her she would find life on a farm hard and boring. But she's determined to prove him wrong by participating in all the activities the other women perform. She does realize that the work is hard indeed, but she keeps on trying.
In the end, seeing that all her hard work is in vain, she decides to go back to the city where she lived all her life. And of course, this is when Elia realizes he misses her and that he possibly even has feelings for her. He then decides to ...
AHA! well I'll stop the spoilers here, because I want you to try and watch the movie! The "trailer" will have some hints for you, for sure ;)
Rating and Recommendation
What I liked:
Ornella -nothing more to say there if you see her. I especially liked her determination to prove she can do anything.
The comedy - not over the top like in other productions
The ending ;)
What I disliked:
Mamie's part - I really have no idea what made the producers think this would be an OK thing to do. The only reasoning I can find is that this IS 1979/1980 Italy and we all know the overall mentality of the era, all around the world.

I can't talk much about this subject because I don't think it's my place to do so - I lack the education on it and this is a movie review, not an essay on social/racial issues.
Rating - I give this movie 4 ♥ out of 5 ♥, mostly because of Mamie's part. Perhaps because of her, i should downrate the movie more, but i won't.
Recommendation - Since i didn't spoil the ending too much for you, you should know i want you to watch it. I'm repeating myself, sorry. There's romance, there's an eye-candy lady in there, there's some comedy, and there are regular people too.
This is it from me, for now. See you next time!
©Charly Cross 2013 - present. All rights reserved.
Do you want to buy me a coffee? this is a 1-time donation, thank you very much!
The images belong to their creators and are shared for educational purposes.
Pour être informé des derniers articles, inscrivez vous :
Commentaires